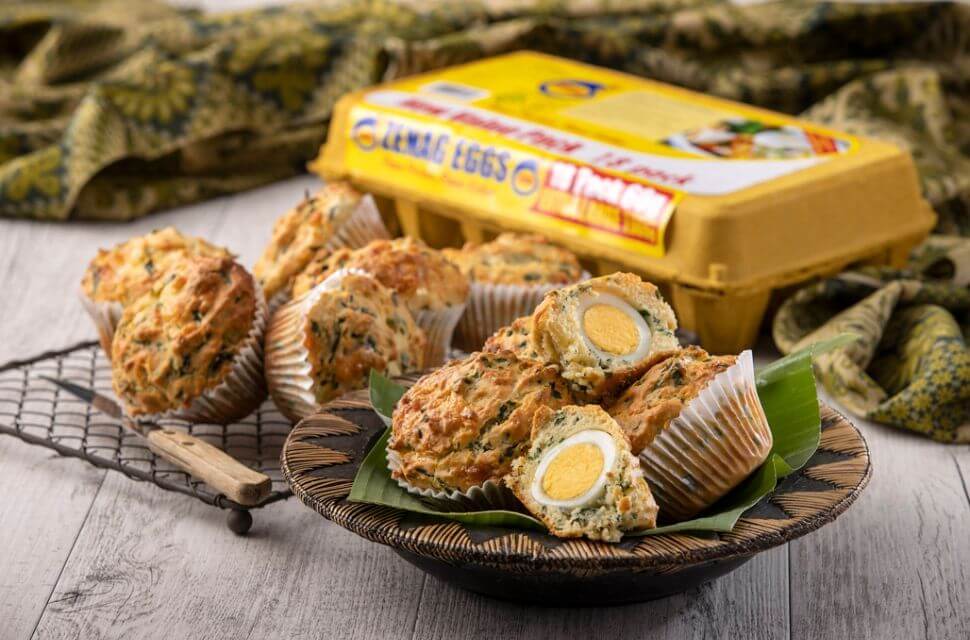 Savoury Muffins
Ingredients
13 Zenag Eggs
2 cups (300 g) plain flour
2 tsp baking powder
60 g butter, melted and slightly cooled
½ cup (125 mL) UHT or fresh milk
2 cups choko tips
1 ½ cups (150 g) tasty cheese, grated
¼ cup spring onions, finely chopped
Method
Prepare an ice bath. Set aside.

Bring a large pot of water to the boil then reduce heat to simmer. Carefully add 10 eggs to the pot of simmering water and cook for 8 minutes. Carefully remove eggs and place into ice bath until cool enough to handle. Peel eggs and set aside.

Preheat oven to 190 C and line a muffin tin with 10 papers. Set aside.

Place the flour, baking powder and salt and pepper into a large bowl. Whisk to combine creating a well in the centre.

Steam the choko tips and cut finely.

Place the melted butter, milk and 3 remaining eggs into the well of the flour. Using a wooden spoon mix to combine. Add the choko tips, cheese and spring onions and carefully mix to combine.

Fill each prepared muffin paper with the batter. Nestle a boiled egg into each. Top with remaining muffin batter ensuring the eggs are covered.

Bake the muffins for 15-18 minutes or until golden and when pressed bounce back to the touch. Allow muffins to cool for 5 minutes in the tray before placing on a wire rack to cool completely.