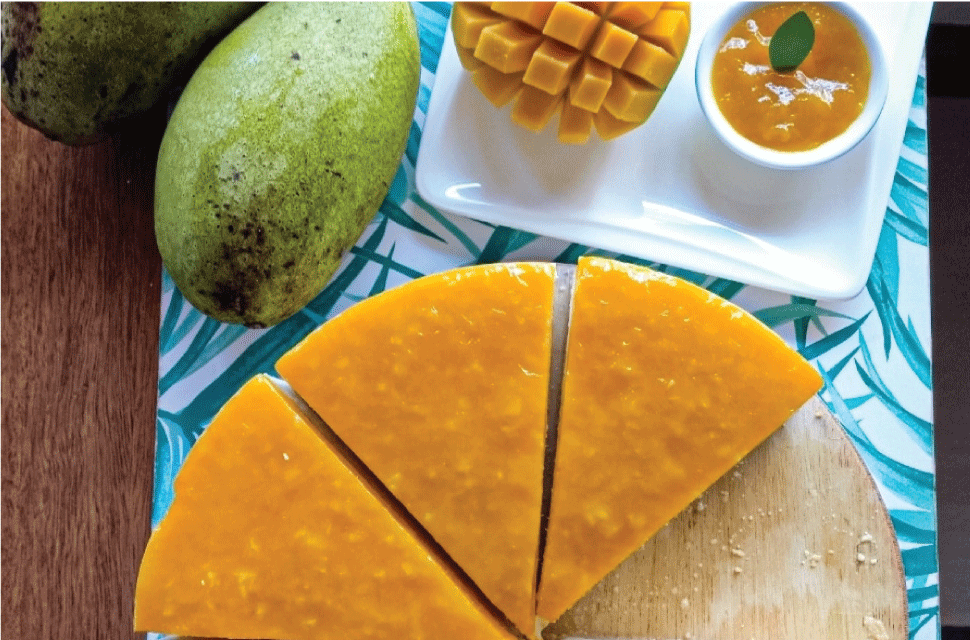 Mango Cheesecake
Ingredients
Ingredients:For the Crust:

1 1/2 cups graham cracker crumbs
1/4 cup granulated sugar
1/2 cup unsalted butter, melted

For the Filling:

3 (8-ounce) packages cream cheese, softened
1 cup granulated sugar
3 large Zenag eggs
1 teaspoon vanilla extract
2 cups fresh mango puree (about 2-3 ripe mangoes)
1/4 cup all-purpose flour

For the Mango Topping:

2 cups fresh mango puree
1/4 cup granulated sugar
1 tablespoon lemon juice
1 teaspoon gelatin powder (optional, for a firmer topping)
2 tablespoons water
Method
For the Crust:

Preheat your oven to 325°F (160°C). Grease a 9-inch (23 cm) springform pan.
In a bowl, combine the graham cracker crumbs, sugar, and melted butter. Mix until the crumbs are evenly coated.
Press the crumb mixture firmly into the bottom of the prepared pan to form the crust. Use the back of a spoon to smooth it out evenly.
Bake the crust in the preheated oven for about 10 minutes. Remove and allow it to cool while you prepare the filling.

For the Filling:

In a large mixing bowl, beat the softened cream cheese until smooth and creamy.
Add the granulated sugar and beat until well combined.
Add the Zenag eggs one at a time, mixing well after each addition.
Stir in the vanilla extract and mango puree until the mixture is smooth.
Gradually add the flour and mix until fully incorporated.

For the Mango Topping:

In a saucepan, combine the mango puree, granulated sugar, and lemon juice. Cook over low heat, stirring constantly until the mixture thickens slightly (about 5-7 minutes).
If you want a firmer topping, dissolve the gelatin in water and add it to the mango mixture. Stir until well combined.
Allow the mango topping to cool to room temperature.

Assembly:

Pour the mango cheesecake filling over the cooled crust in the springform pan.
Smooth the top with a spatula to ensure an even surface.
Gently pour the cooled mango topping over the cheesecake filling.
Use a knife or toothpick to create swirls or designs on the surface if desired.

Chilling:

Refrigerate the mango cheesecake for at least 4-6 hours, or preferably overnight, to set completely.

Serving:

Before serving, run a knife around the edge of the cheesecake to loosen it from the pan.
Carefully remove the sides of the springform pan.
Slice and serve your delicious Mango Cheesecake chilled. Enjoy!

This mango cheesecake is a delightful dessert that's perfect for any occasion, especially during mango season!