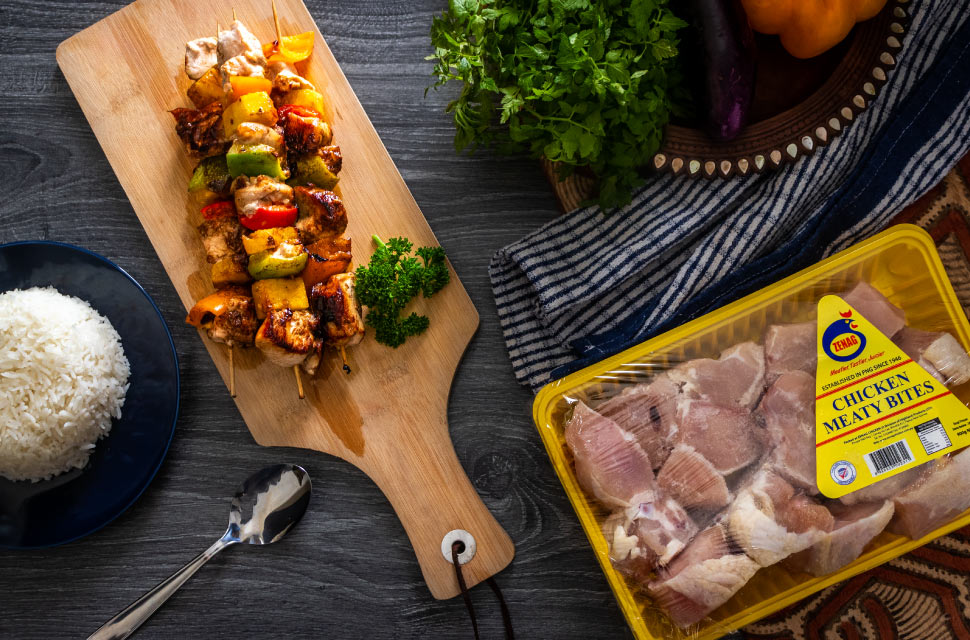 Grilled Chicken Kebabs
Ingredients
1cup barbecue sauce
1/4 cup pineapple juice
1 tablespoon soy sauce
1 tablespoon oil
1 teaspoon minced ginger
1 teaspoon minced garlic
1/2 teaspoon salt
1 pinch black pepper
Chicken Kebabs
Zenag Meaty Bites
2 capsicums cut into 1 inches
1 pineapple cut into 1 inches
Method
1. In a medium bowl, whisk together marinade: BBQ sauce, pineapple juice, soy sauce, oil, ginger, garlic, salt and pepper.
Cut Meaty bites into 1" cubes (ensuring they are an even size will get you the best results).
Place chicken in a large Ziplock freezer bag or medium glass container with half of the marinade.
Cover and marinate for at least 1 hour or up to 4 hours.
Cover remaining marinade and refrigerate until needed. Preheat the grill to medium high heat, around 375-400 degrees.
If using wooden skewers, soak for 10 minutes before building kebabs.
Build kebabs, alternating between chicken, peppers, and pineapple chunks as desired. Discard remaining marinade from the chicken.
Grill for 4-5 minutes per side, until chicken reaches an internal temperature of 165 degrees in the thickest part, basting twice during the cook time with remaining marinade.
Remove from grill and serve.