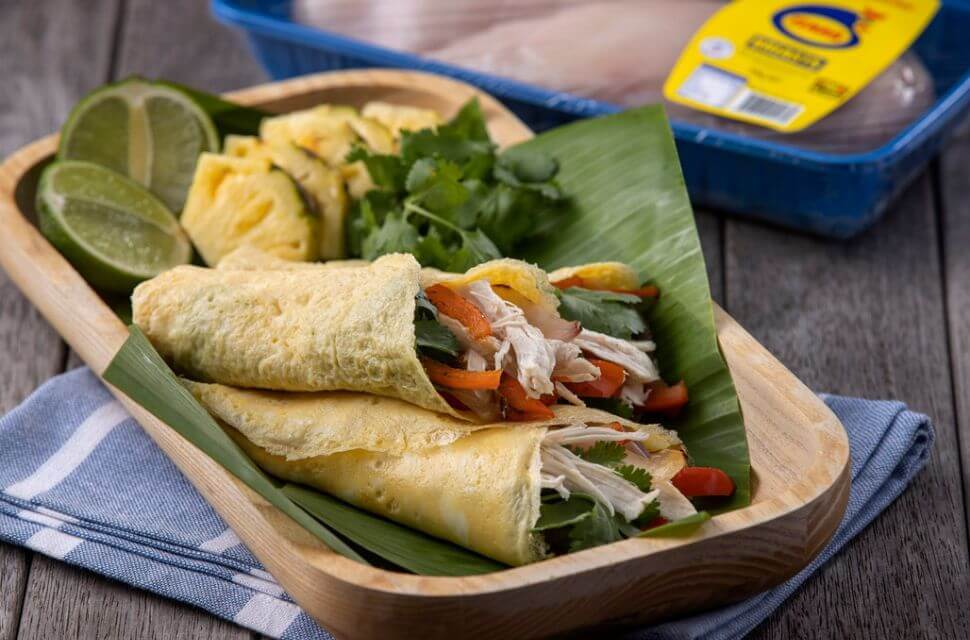 Chicken Rainbow Omelette Rolls
Ingredients
2x Zenag Chicken Breasts
8x Zenag Eggs

2 x carrots, cut into matchsticks

2 x capsicums, cut into matchsticks

1 x small bunch of coriander

1 tbsp sesame seeds

4 tbsp soy sauce 

1 x lime, juiced

1 x Maggi stock cube
Method
Arrange the chicken breasts in a single layer in a large shallow saucepan. Add enough cold water to cover by about 3 cm. Add the Maggi stock cube and stir in the water to dissolve. Bring to a very slow simmer, then cook over low heat for 10 minutes. Turn the heat off and allow the chicken to cool in the cooking liquid.
Combine the soy sauce, sesame seeds and lime juice together in a bowl and set aside. Finely shred the cooled chicken, pour over the dressing and gently toss to coat the chicken.
Preheat the stove or burner to medium heat. Whisk the eggs and 1 tsp water together in a bowl.
Heat a lightly oiled 20cm non-stick frying pan over medium heat. When the pan is hot, pour in 1/6 of the egg mixture and swirl it around the base and side. When the omelette is lightly browned quickly remove from the heat. Slide the omelette onto a large plate and cover with foil to keep warm. Repeat with the remaining egg mixture to make six omelettes in total.
Divide the chicken, carrot, capsicum and coriander among the omelettes, then fold in the sides to enclose the filling.