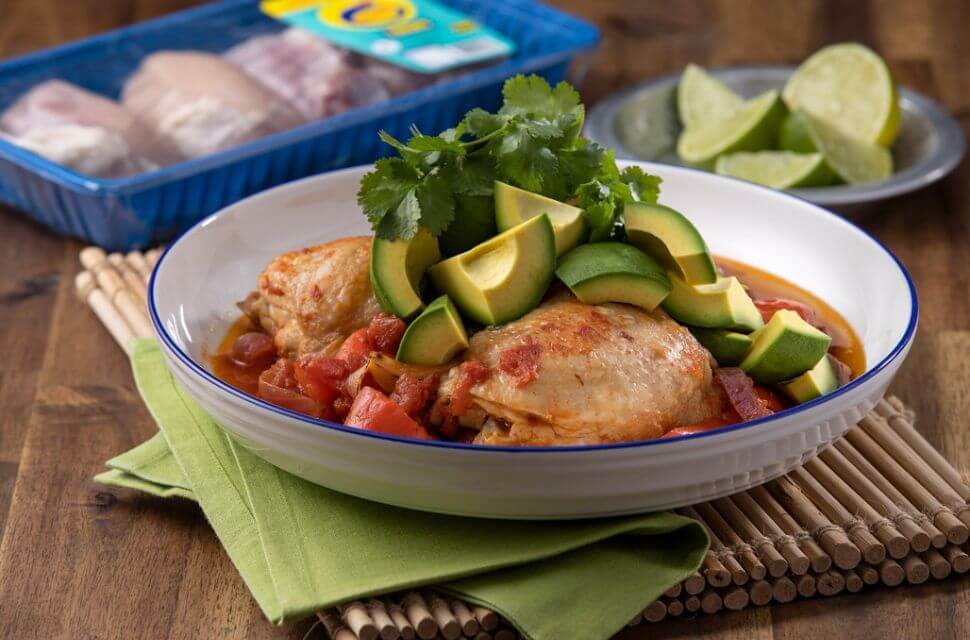 Chilli Chicken One-pot
Ingredients
2x 700g trays of

Zenag chicken thighs

2 large red onions, halved and sliced

2 tbsp oil

4 capsicums

,

deseeded and cut into large chunks

2 x 400g canned or fresh  tomato

2x Maggi chicken stock cubes

½-1 tsp

dried chilli flakes

1 handful of chopped coriander or mint.
To serve
Coriander or mint, chopped

2-3 avocados

,

skinned and sliced

good squeeze lime juice
Method
Fry the onions in the oil for 5 mins until they become soft and start to colour.  Stir in the capsicums, then pour in the tomatoes, followed by a can of water, the stock cubes and chilli.

Arrange the Zenag Chicken Thighs on top of the sauce, pushing them under the liquid. Bring to a simmer, cover, then cook in the oven for 40 mins.

To serve, stir in most of the coriander/mint, toss the rest with the avocado, lime and a little salt, then pile this on top.

Serve with green salad tossed with lettuce, cherry tomatoes and finely sliced red onion.